Mason Wartman had a comfortable Wall Street position in New York City, where he was well compensated. But something was missing in his life. Pizza! Well, not quite, but he'd always wanted to run his own company. As a result, he left his job, relocated to Philadelphia, and founded Rosa's Fresh Pizza.
Then, one day, a customer did something that would forever alter Wartman's business and life. A man came into a $1-per-slice pizza parlor, ordered a slice for himself, and then requested if he could buy another slice for a homeless person.
Wartman told National Public Radio, "I said, 'Sure.'" "I grabbed his dollar and raced out to get some Post-it Notes, which I used to mark the purchase of a slice."
This system of "paying it forward" became somewhat of a Philly phenomenon. Customers would buy more than 10,000 pieces of pizza over the next year, all of which would be given out to homeless people or anyone struggling to make ends meet.
Wartman's wall is covered in notes from customers. Inspirational and appreciative sentiments abound in the notes.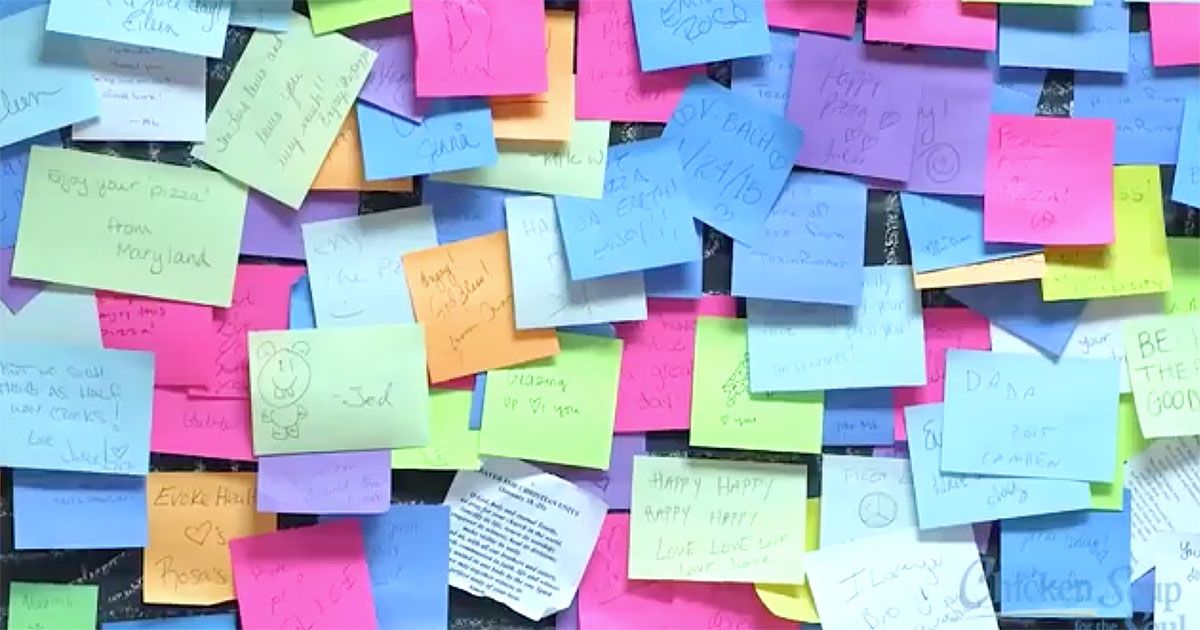 Wartman is now assisting in the feeding of around 30 to 40 homeless individuals per day, and his generosity is sparking similar trends at other places such as Starbucks and Panera Bread. It has also attracted the attention of the national media, resulting in an increase in visitors and donations.
People, according to Wartman, generally want to help but are confused how.
He stated, "This is an extremely simple, super efficient, and super transparent approach to help the homeless." "It's just that they're really good folks, you know?" Sometimes they're purchased by homeless people for other homeless people."
"Everyone wants the world to change, but in order for it to happen, we must first change ourselves," one grateful client said.
Who'd have guessed it would just set us back a buck?